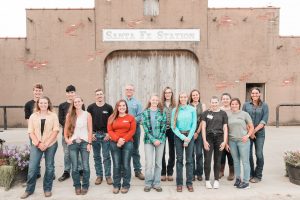 Another year has begun at the School of Discipleship! This year we have 11 first-year students and three second-year students. The students have taken the last several weeks to fall into the patterns and rhythms of life here—learning where to go, what to do, when to show up—it's always a learning curve, and every year we try to be as gracious as we can while we help the students learn those important details.
One of those rhythms of life the students are adjusting to is morning worship at School of Discipleship. This year we have decided to gather together in the mornings to read Scripture, sing songs, and pray together before beginning the day in earnest. Morning worship is family time; there are no grades given, and students and staff gather to worship God together, on equal footing. At the same time, we all need to learn what it is to worship God "in spirit and in truth" (John 4:23). In singing and praying and working and learning, all the rhythms of the Christian life are different from what we have knew before we came to Christ. And this process of learning the "ins and outs" of the new life we have in Christ takes a lifetime to learn. "And we all, with unveiled face, beholding the glory of the Lord, are being transformed into the same image from one degree of glory to another. For this comes from the Lord who is the Spirit" (2 Corinthians 3:18).
So pray for our students this year, and pray for us as well. Pray for grace as we all continue to learn the new rhythms of life in the Spirit, learn to walk in step with the Spirit, and learn to be gracious to others along the way.