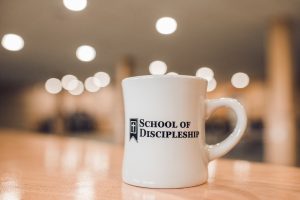 Spoiler alert: this update contains far too many references to people named "Dan" or "Daniel." You may need to take notes.
One of the mainstays of the School of Discipleship has always been Dan Cooper. For many years, Dan has faithfully mentored and taught in the program, helping us to keep our eyes fixed on Christ and our feet firmly rooted in the Word of God. In 2015, Dan brought Daniel Stanley on as the Dean of Men as part of a move to make the School of Discipleship more true to its basic convictions of Gospel-driven discipleship rooted in the Word of God. Dan had also intended that Daniel begin the process of taking over the leadership of the School. In January of this year, Dan stepped down the School of Discipleship, and Daniel Stanley became the Director in his place.
Daniel Benedict, who graduated the School of Discipleship in the summer of 2018, came on staff last fall as Daniel Stanley's assistant. When Daniel Stanley became the Director in January, Daniel Benedict stepped up to become the Dean of Men.
While we're sad to lose Dan Cooper's leadership, vision, and godly care in the School of Discipleship, we're excited for the future. We are, as always, leaning into our vision and our core commitment: to equip men and women as disciples of the Lord Jesus Christ, driven by the gospel and rooted in the Word. Please pray for the Coopers in their transition away from Miracle Mountain Ranch, and for Daniel and Daniel as they attempt to faithfully carry on the work that Dan Cooper has done these many years.