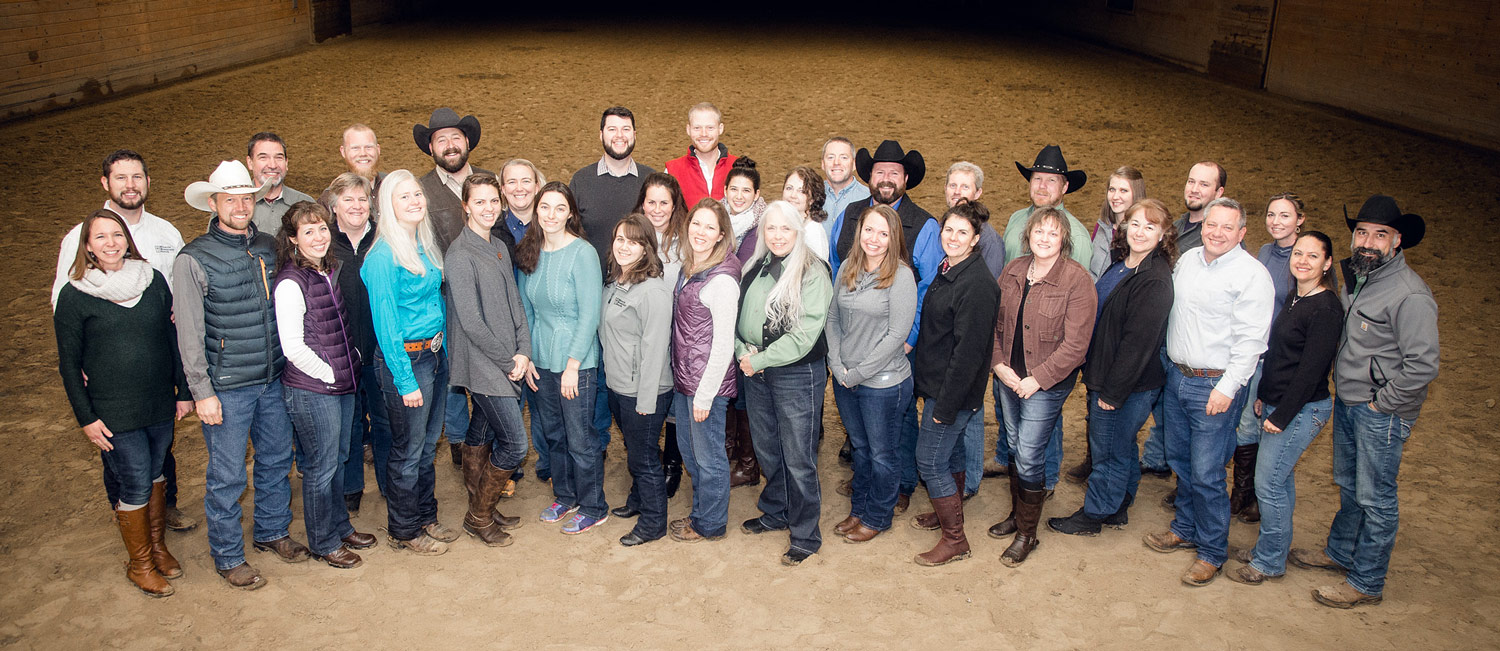 Staff
Matt and Jenni Cox are alumni and came on staff in 1992. Matt serves as Executive Director of Miracle Mountain Ranch. Jenni is an instructor and assists Matt in ministry. Matt teaches the Conflict Resolution and they teach the "Preparation for Marriage" class together to the students.
Dan and Connie Cooper are alumni and came on staff in 1997. Dan serves as the Director of the School of Discipleship (formerly C.A.M.P. / Camp Apprenticeship Ministry Program). He has his Master's Degree in Biblical Counseling through Trinity Seminary and College of the Bible. Dan teaches the Foundation in Christ class and Intro to Biblical Counseling classes. Connie holds a Bachelor's degree in English and teaches the Intro to College Writing class. She also helps oversee the Food Service Department.
Chip and Sandy Hungerford came on staff in 1988. Chip serves as the Business Manager and Guest Service Director overseeing Finances, Guest Registration, and Housing. Sandy, an alumni of the program, holds a degree in Outdoor Education and teaches Vaulting. She is also the camp store manager, and assists Chip with budgeting & year-end finances.
Mark and Jen Brenner are both alumni and came on staff in 1996. Mark is the Director of Finance and Development. He is currently pursuing a Bachelors Degree in Religion from Liberty University. Mark teaches the Intro to Music Class and the Personal Evangelism class, while Jen teaches Horse Science.
Patty May has served on staff since 1997. She is the Dean of Women and Secretary for the Director of the School of Discipleship. Patty holds a Masters Degree in Christian Education. She has authored Wisdom's House Bible Study Series and Wisdom's House for Kidz. In 2008 both were translated and published in Korean. She is a certified Instructor /Proctor for the ServSafe Course in food safety through the National Restaurant Association.
Mark and Shari Carpenter came on staff in 2001. Mark is the Director of Operations. He heads up all construction and maintenance, in addition to teaching the Servant Leadership class in the School of Discipleship. Shari helps with summer camp registration and with the Buckboard Store.
Donnie and Tonya Rosie. Donnie attended the School of Discipleship program from 2000 to 2002, and works as the Marketing Director for the Ranch. In 2010 he graduated with Bachelors of Science in Business at Edinboro University of PA. Tonya teaches several history classes online for The Potters School, and is busy with three young boys. She is a 2005 graduate of Malone University with a degree in Integrated Social Studies, and just finished her Master's Degree in Middle and Secondary Instruction from Edinboro University. They have three sons and one daughter; George, born in December 2010, Cole, born in November of 2012, Grant, born in February of 2014, and Karis their daughter, born in August of 2016.
Roger and Cathy Piger came to the Ranch in 2008. Together, Roger and Cathy work with the students in the School of Discipleship and with summer staff and volunteers. Roger is currently pursuing a Master of Arts in Bible and Theology at Clarks Summit University. He serves as the Camp Director at Miracle Mountain Ranch. He also teaches a few classes for the School of Discipleship. They have two daughters, Nicole and Rebecca. Cathy also oversees the Landscaping at the Ranch.
Matt and Kim Smith joined staff in 2009. Matt, an alumni, is our Director of Equine Ministries and oversees aspects of the barn and equine programs. Matt teaches Horsemanship and Advanced Training classes. Kim is involved in the Critter Corral Program.
Daniel Stanley graduated from the School of Discipleship as a second-year student in 2009. He then went on to earn a B.A. in Biblical Studies from Bethlehem College and Seminary before coming on staff in 2015. He currently serves as the Dean of Men.
Kara Baratta joined the MMR staff team in 2008, following her graduation from School of Discipleship. ('06 – '08). She currently serves as the Equine Program Director. Kara has her Bachelor's degree in Youth Ministry. She assists in teaching Horsemanship and Advanced Training classes.
Tyler and Harmony Chundrlek, Tyler is an 09′ graduate of the School of Discipleship. In 2010, Tyler came on staff in the program department and is responsible for Wilderness Camps and retreats, as well as several aspects involving the School of Discipleship. Tyler has earned a bachelors degree in Christian Ministry and is currently enrolled at Liberty Baptist Theological Seminary seeking a masters degree in Christian Leadership. Harmony is a Miracle Mountain Ranch summer staff alumni.
Nichole Smith joined the MMR staff in 2011 after graduating from the School of Discipleship. She is working in the Equine Department. Some of her responsibilities include overseeing the Critter Corral program, horse training, and teaching riding lessons.